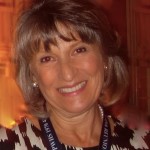 Artist's Bios are written in the third person- It's me, just written as if it's somebody else. Here's my updated biography:
Lifelong artist Ann (Seraphine) Lombardo was first inspired by fashion illustrators of mid-century America. She has gone on to study works by Jean-Leon Gerome and Charles Bargue, artists and teachers of classical drawing in French academies in the late 19th century. Ann is also influenced by artists John Singer Sargent, Dutch masters such as Vermeer and European representational painters of the 19th century. She graduated Magna Cum Laude from F.I.T., majoring in Fashion Illustration & Advertising Design and from N.Y.I.T., Communication Arts, A.A.S., B.F.A., respectively.
As a fashion illustrator, designer and product specialist over her career in the apparel field, she applied drawing, illustration, design, color, textile and aesthetic ability in many aspects of the business. Subsequently, Ann studied classical drawing and painting with teachers such as Caleb Nelson Carter, Robert Armetta, and Cornelia Hernes of the Florence Academy of Art.
Ann likes to say, "Artists are born. Not made. Once an artist, a forever unshakeable mission remains: Get and have an artistic life. It requires time, space, materials, inspiration, resolve, motivation, feedback, energy, discipline, all kinds of support… and, hopefully, some ability. That's your life sentence without parole. To be an artist is to surrender to the path."
Ann employs classical processes when creating an oil painting, commencing with time spent on creating and lighting the set-up itself. Then comes attention to the drawing, observing the design and forms on the canvas. She applies the next layer a tonal underpainting, then finally paints with the colorful palette. She is drawn to domestic themes, such as floral and still life. Favorites are also iconic subjects of today, such as the tote bag/satchel in various situations, culinary objects, fishing lures and gear, and portraits. Her techniques stem from her obsession to observe, observe, observe.
She hopes to paint with an authentic style that is studied, true, but with additional air and life evident to the viewer; including a bit of artistry and drama. Her goal is to grow with every work, adopt new subject matter and advance in skill and technique. She hopes viewers will relate personally somehow to her art.
Past Exhibitions:
East End Arts member and juried shows, Southampton Artists Association, Guild Hall Members Show, Water Mill Museum Members Show, Best of Thirty Squared Daily Painters Invitational,
Ashawagh Hall artists group invitational
Awards: Honorable Mention, East End Arts 2008
Upcoming Exhibitions:
Riverhead Town Hall sponsored by the East End Arts, December-March, 2016
Thirty Squared Daily Painters, Summer, 2016